The 1965 Factory Race Car - BFR 400B
---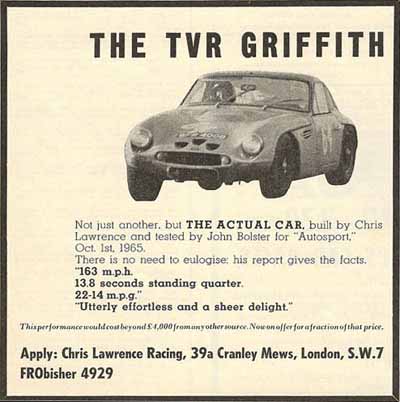 Assigned chassis number 001, BFR 400B was the factory prototype for the new shaped 400 model and the company demonstrator that was taken to the Motor Show.
TVR asked Chris Lawrence to further develop the car's suspension and brakes for racing and BFR was raced in 1965 by Chris and great club drivers such as Tommy Entwistle, Ted Worswick and TVR Director Keith Aitchison. The car competed in a mixture of club racing and major events such as the Autosport Championship, the Goodwood Whitsun Trophy and International Hillclimbs.
BFR raced against, and sometimes beat lightweight E-types, Cobras, 26Rs and the works Sunbeam Tigers driven by racing greats such as Brian Redman, Digby Martland, Bernard Unett, Jem Marsh, RN Bond. The car had a number of good results including an interesting class win ahead of a Ferrari 250LM, two AC Cobras and a Porsche 904 at the St Ursanne Les Rangiers hillclimb. The FTD on that day was Jim Clark in his Lotus F1 car!
John Bolster famously road tested the car in 1965 taking it to Europe and reaching 163 mph all of which was recorded in very detailed two page Autosport road test.
John Akers and Gillian Fortesque-Thomas autocrossed the car in 1966 and it then became a road car gaining ever wider wheels and arches until we acquired the car in 2010. Since then we have been working hard to piece together the car's racing and ownership history.